The Fifth Annual Saxxy Awards!
August 21, 2015 - SFM Team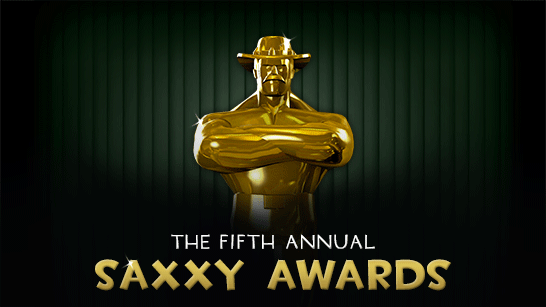 It's our favorite time of year again! It's time to announce this year's Saxxy Awards, and lay out the rules and deadlines for submissions. We're especially excited to find out how the mix of universes for entries this year is affected by both the release of the SFM within the Dota 2 Reborn Beta and the Dota 2 Short Film Contest.
We're mixing up the categories again this year, to encourage more of you to submit entries. (and encourage the overachievers among you to submit more entries!) The Action, Comedy and Drama categories are all changing to have a 3 minute limit, and there will be a new Extended category that has the 5 minute limit from prior years. We believe that there are a great many stories to be told in the new 3 minute format, and we hope to see more of them by adding categories in the gap that existed between 1 and 5 minutes.
On a more technical note, we're also changing the way that submissions are uploaded, so you upload your entries directly to YouTube, and add them to your Steam profile, instead of uploading through the SFM. The submission deadline is November 11th, but once again, we'd like to remind you that you can upload non-final versions up to a week in advance of the final deadline, to guard against last-minute computer failures, internet outages, YouTube login problems, etc. Check the guidelines for details on the rules and deadlines, and get your entries ready!
Source Filmmaker Reborn
June 17, 2015 - SFM Team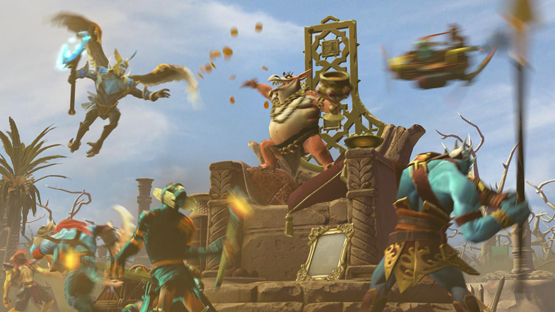 Source Filmmaker is being reborn in the Dota universe! The new SFM will be included in the Dota 2 Reborn Beta, and will work natively with Dota 2 and Dota's custom games. This includes recording gameplay, new Dota-specific features, and integration with the new Source 2 engine and all the latest tools. We're incredibly excited to make creating Dota movies much easier, and are looking forward to both growing the SFM community with folks from the Dota 2 workshop community, as well as expanding the choices for the existing community!
While there are a bunch of exciting new features in the new engine, new tools, and the new SFM, there will also be some missing features as well. Check out the wiki to see all the differences that are coming with the Dota 2 SFM. Since this is a beta, you should expect less polish and more bugs for the time being, but you can also expect a more frequent update cycle than the SFM has seen recently. The new SFM is 64-bit only, so while it will allow you to create longer movies and more intricate worlds, it will also require a 64-bit version of Windows to run.
For those of you who live and love Team Fortress 2, don't worry - the standalone SFM you know and love isn't going away, and it's still the best place to create shorts in the Team Fortress universe. It will also continue to have the workshop with the greatest variety of contributions, and remain the best place to create shorts in all the other universes we've released DLC packs for - including Day Of Defeat, Blade Symphony, Portal, Black Mesa, Left 4 Dead, Dino D-Day, and The Stanley Parable.
So get back to making movies - and while you're waiting for your renders to complete, download the new Dota 2 Reborn beta, and check out what's new in the SFM Reborn!
End Of The Line
December 10, 2014 - SFM Team
We just watched End Of The Line for the 100th time in a row, and it occurred to us that it was theoretically possible that someone in the SFM community wasn't yet aware of their fantastic short. If that's you, then you owe it to yourself to go watch it right now. If that's not you, then you've probably already stopped reading this to go watch it again, and we don't blame you. Congratulations to the End Of The Line team on an amazing, action-packed short!
Import / Export
November 6, 2014 - SFM Team
Our friends over at Mixamo have been busy adding SFM support to Fuse, their character creation tool on Steam. Read more about the new SFM export feature, watch the tutorial, and see how SFM community members lent their expertise to the folks at Mixamo for this update!
We haven't been completely idle ourselves, and after seeing multiple reqeusts for help on how to make characters run along animated paths instead of in a straight line, we've updated Import Sequence to make this easier. We've added an option "Root Drives Pose Params" to the Import Sequence dialog that allows you to animate the rootTransform of your character, and the SFM will figure out how to animate the move_x and move_y pose parameters to make the character animate along that path. Don't forget that the Steady preset is a great way of smoothing out motion speed while keeping the path intact, and have fun making guys run in circles!
Continued...
The Winners of the 2014 Saxxy Awards!
October 1, 2014 - SFM Team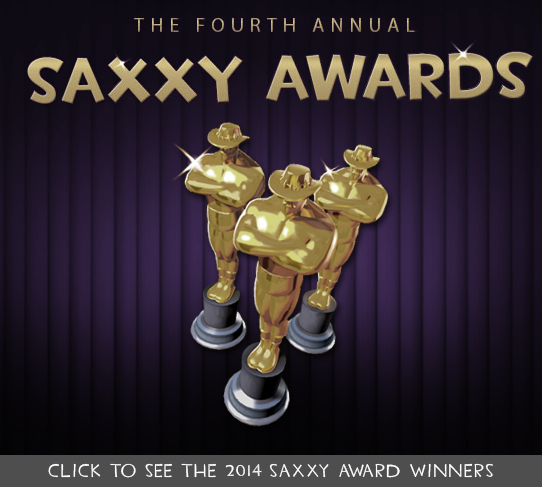 It was one of the tightest Saxxy races we've ever had, with a lot of heated debate here at Valve. But even with so many great entries, it's still a contest, and someone's got to win.
Luckily, someone did! Announcing the winners of the 2014 Saxxy Awards! Head over and check them out. All winners will get an exclusive, highly rare in-game Saxxy Award, and The Overall Winner's getting flown out to Seattle to spend some time with us here at Valve.
Continued...
Announcing the 2014 Saxxy Awards Nominees!
September 30, 2014 - SFM Team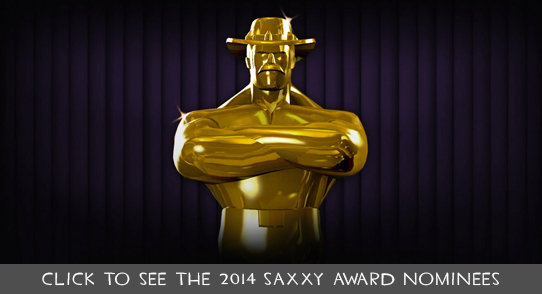 We laughed. We cheered. We cried. Some of us wouldn't stop crying, and it got awkward. Then we laughed and cheered again.
We say this every year, but we were blown away at the quality and inventiveness of this year's entries. And now we're proud to present the absolute best of best from the 2014 Saxxy Awards. Check out the nominees here.
Of course, as with any contest, not everyone can win. But that doesn't mean they aren't worthy of recognition. Below, some fantastic entries that just barely missed the cut:
Best Late Entry
"Defuse on The Fly"
Best Five-Minutes-Exactly Piece
"Wanted Warehouse"
Best Original Character
"Cubey"
Best Crossover
"The C4 Courier"
Best Tackling of a Serious Subject
"Behind the Mask"
Continued...
Vote For The Fourth Annual Saxxy Awards!
September 23, 2014 - SFM Team
It's that time again! Time for you, the community, to help decide which videos are truly the best of the best! Remember that in addition to helping choose the best videos, you're also helping to find the videos that violate the rules for the Saxxy Awards.
If you've submitted a video, make sure you've included links to any music or other assets you didn't create yourself, and double-check that you've removed any YouTube ads from your submission!
The voting period ends at 11:59PM PDT on Monday, September 29th. So submitters, you have until then to finalize your contributors; voters, you have until then to help decide which videos will win a coveted Saxxy Award!
Nominees will be revealed on September 30th and winners of this year's Saxxy Awards will be revealed on October 1st. So get voting!
Continued...
Now Accepting Submissions For The Fourth Annual Saxxy Awards!
September 16, 2014 - SFM Team
Let's Begin Again
September 10, 2014 - SFM Team
As the last of our content pack DLC before the run-up to the Saxxy Awards, we're thrilled to be able to share assets from The Stanley Parable. If you haven't played it, we can't tell you what it's about without spoiling it. Well, we can probably tell you that The Stanley Parable is a game about games. Or rather, in some ways, it's not really a game at all. Or perhaps it's the game that is the most aware of being a game. Or... Well, we've already said too much. All we can say is that it's now available as a DLC from within Source Filmmaker, and that it's under a similar video monetization policy as the rest of the content pack DLCs.
Continued...
Plum Blossoms - And Dinosaurs!
September 4, 2014 - SFM Team
Today we're excited to be able to share a double DLC update with you! First, the Blade Symphony folks have fleshed out their DLC with some beautiful new environments, props and music. There are now snow-covered pagodas, eastern temples, western castles, and even a near-future shopping mall for your virtual location scout to explore. They're also sharing music by their composer Tom Stoffel, so you have new options for music under their media monetization policy.
We're also adding a new DLC today, from the fine folks at Dino D-Day, the World War II first person shooter - with dinosaurs! So now you can give your video that extra oomph - with dinosaurs! They're releasing all of their weapons and player models (including dinosaurs!) under the same style of usage policy as the other DLC in the SFM. So if you've been wanting to give the Pyro a pet T-rex, or have the Soldier wrestle an archaosaur, now's your chance! Get animating!
Continued...
"You know what I don't hate? This."
-Francis
August 27, 2014 - SFM Team
Today we're releasing our latest DLC, the Left 4 Dead Content Pack! It contains the props, infected and all eight survivors from Left 4 Dead 2, including The Passing and The Sacrifice. We're also releasing music and voice, including all of the stems that were used to dynamically compose the distinctive music for Left 4 Dead. So now you can compose your own soundtrack out of those little snippets of oboe, banjo, saw and vocals to create something recognizably Left 4 Dead but also uniquely your own!
Continued...
They're waiting for you, Gordon, in the test chamberrrr.
August 18, 2014 - SFM Team
The Fourth Annual Saxxy Awards!
July 24, 2014 - SFM Team
We were sitting around reminiscing about our favorite SFM videos, when we realized it's time to start this year's Saxxy Awards! We're still reeling from the great videos from last year, and are looking forward to even more!
One thing we'd especially like to see more of, is videos made in other universes. Since the Saxxy Awards started as a Team Fortress 2 video contest, and the SFM runs a modified version of TF2 itself, we've naturally seen mostly videos in that universe. We're hoping to change that by shipping assets from other games as optional DLC.
So starting today, you'll be able to download Portal assets directly in the SFM through the Portal Content Pack DLC! All the models, particles and sounds from Portal 2 will be included, but unfortunately the SFM isn't able to render the Portal-specific effects like light bridges, gels, or well, portals.
As exciting as that is, we're even more excited to be offering our first non-Valve content pack! Puny Human Games have offered up assets from Blade Symphony, their tactical sword fighting game, for you to use in your movies! You'll be able to download the assets they've provided in the Blade Symphony Content Pack DLC, and even submit images and videos to their community hub! See their Media Monetization Policy here.
So once again, get your entries ready! The submission deadline this year is September 24th, but don't wait until the last day to submit! You can submit a non-final version up to a week early, and we encourage you to do so, just to safeguard against network outages, computer problems, or getting the time zone conversion to Pacific time wrong. Full submission rules with complete dates and times are available here.
Continued...
Christmas Is A Little Early This Year
December 17, 2013 - SFM Team
Now that we've been able to take a little breather after the Saxxy's, we've finally found time for a couple updates that have been commonly requested. First off - the SFM now supports scaling models and even individual bones dynamically. (We can already picture the Meet The Heavy remakes with a tiny-head Heavy - extra credit for pitch shifting his dialog) We should mention that in our hurry to get it out before the holidays, it hasn't had as much testing as we'd like, so that feature may be even more beta than the SFM as a whole.
Secondly, the SFM Workshop now supports all of the commonly requested asset types. So maps, particles, materials, textures, scripts, sessions, shots and animation dmx files can now all be submitted to and downloaded from the workshop. Once you include their dependencies, maps, shots and sessions can get quite large pretty fast, so we've also increased the workshop quota to 1 GB.
So for those of you with some free time over the holidays, we're expecting big things! (Or comically small things - your choice.) Go share your maps, animations, textures or even entire shots, and earn the respect and admiration of the SFM community. Or just see if you can make anything more popular than the (multiple? really?) Scout's Mom-bots!
Continued...
The Winners for the Third Annual Saxxy Awards are Announced!
November 26, 2013 - SFM Team
In addition to watching all the great submissions to the Third Annual Saxxy Awards, we also really enjoy the heated discussions and accolades. Although with everything coming to a close, we're actually a little sad that it's over, to be honest.
But as sad as it is that the Third Annual Saxxy Awards are over, it's even more exciting to be able to show you the winners! So what are you waiting for?! Go see which of the nominees have won themselves a Saxxy!
If you're still here, (or better yet back from watching all the nominees again) we've also made all of the submissions visible, so you can continue to watch Saxxy videos to your heart's content!
Continued...