The Sixth Annual Saxxy Awards!
August 9, 2016 - SFM Team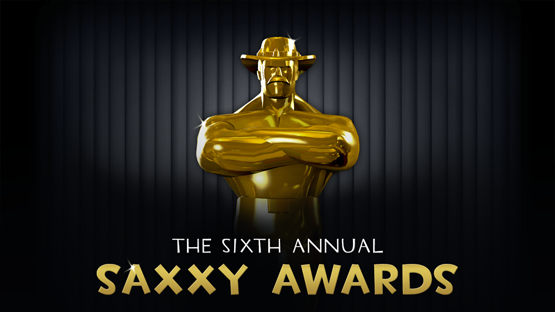 It's time once again to announce this year's Saxxy Awards, and we couldn't be more excited! Last year we shook up the rules a bit by reducing the length of the themed categories (Action, Comedy, Drama) and adding a five-minute Extended category. This year we're letting things settle, to give everyone a chance to adapt to the new format. We were overwhelmed with so many incredibly high-quality entries to the Extended category last year, there were some great entries that didn't get the recognition they deserved. If you're working on an entry to the Extended category, it may be worth reevaluating whether you could edit your piece down to three minutes, and submit to one of the themed categories instead. We value solid editing and every year there are good entries that could have been great, if only they had been edited down to carve off a minute. (or two!) We won't pretend that's an easy task, but we've found that our videos have benefitted from being pretty brutal in the edit, trimming frames, shots and sometimes whole sequences. Some of our favorite gags have ended up on the cutting room floor, and made the piece as a whole better in the end.
As always, we can't wait to see what variety of amazing videos you create! Don't forget that all Valve universes are available for use, and SFM shorts that were submitted to the Dota Short Film Contest are also eligible for this year's Saxxy Awards. The submission deadline is November 11th, but as always, we'd like to remind you that you can upload non-final versions up to a week in advance of the final deadline, to guard against last-minute computer failures, internet outages, YouTube login problems, etc. Check out the guidelines for details on the rules and deadlines, and get your entries ready!
The 2015 Saxxy Awards Winners Have Been Revealed!
November 18, 2015 - SFM Team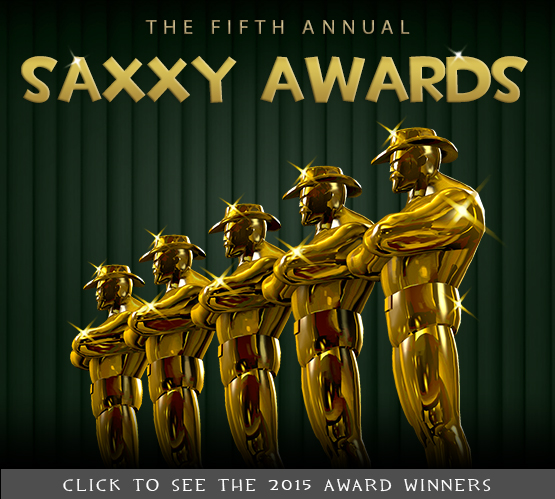 We say this every year, but we had an especially hard time this year choosing the winners of the Saxxy Awards. The Extended category in particular was overflowing with quality submissions - who knew that the Heavy could be so adorable or so creative, how dark Nick's backstory was, and how hilariously terrifying a plane full of Scouts could be!
Congratulations to all the winners of the 2015 Saxxy Awards, who will be receiving the coveted Saxxy Award, equipable in Team Fortress, and to the Overall Winner, whose team will be flown out to meet the folks that make movies and games here at Valve.
Lastly, we'd also like to congratulate the creators of a few more entries that we feel are deserving of recognition:
Most Horrifying Use Of Combine Technology
Secret Lives
Best Sketch Comedy
Blu Team's Day Off
Best Reveal Of Our Secret Plans
Mann Vs. Hat
Announcing The 2015 Saxxy Awards Nominees!
November 17, 2015 - SFM Team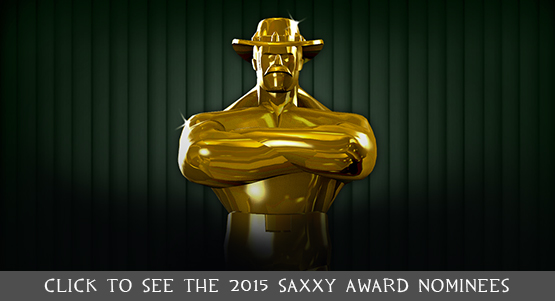 It's been an action-packed Saxxy Awards this year, full of twists and turns, laughs and surprises! We have shorts from well-known members of the community from whom we've seen great things in the past, and from newcomers who are submitting their very first Saxxy entry. All of the entrants are winners in our book, but there's only so much space on Saxxy Awards web page, so we need to narrow down the entries to the best of the best.
So go watch the nominees for the 2015 Saxxy Awards, and see the best that the community has to offer! We'll announce the winners tomorrow, so while you discuss and debate who you think they'll be, you can also check out the rest of the entrants here.
As usual, there are some specific entries that weren't nominated, but we felt were worthy of special mention, and here they are:
Audience Choice Award
Mechanical Mishap
Best 2D/3D Mashup
A Spark Of Life
Best Commercial For Another Game
No Time To Waste
Vote For The Fifth Annual Saxxy Awards!
November 11, 2015 - SFM Team
It's time once again, for you, the SFM community, to vote for your favorite entries to the Fifth Annual Saxxy Awards! Voting is open until 3PM PST on Monday, November 16th, so you have until then to watch and vote. Don't forget to down-vote those entries which have violated the rules for the Saxxy Awards: No advertisements allowed, any music and other assets must have links to their authors in the description, and entries should abide by the per-category duration limits.
For those of you who have submitted to the Saxxy Awards, please double-check your videos, and make sure that they have the appropriate category tags, are marked public, have no advertisements, cards or annotations, and that you've attributed the creators of any music or other assets you've used, and received permission for their use.
Nominees will be announced on Tuesday, November 17th, and winners on Wednesday, November 18th. But enough reading - go vote!
Continued...
Now Accepting Submissions For The Fifth Annual Saxxy Awards!
November 4, 2015 - SFM Team
The submission window for The Fifth Annual Saxxy Awards is open! As we mentioned before, the submission process has changed, so upload your videos to YouTube and head over to your videos page on Steam Community and associate your videos with The 5th Annual Saxxy Awards. The final deadline is Wednesday, November 11th, 3:00PM PST, but as always, we strongly encourage you to submit early, to avoid last-minute network or computer problems preventing your submission from being entered into the contest, and to give you a chance to review your submission and make any last-minute changes.
Continued...
The Fifth Annual Saxxy Awards!
August 21, 2015 - SFM Team
Source Filmmaker Reborn
June 17, 2015 - SFM Team
Source Filmmaker is being reborn in the Dota universe! The new SFM will be included in the Dota 2 Reborn Beta, and will work natively with Dota. This includes recording gameplay, new Dota-specific features, and integration with the new Source 2 engine and all the latest tools. We're incredibly excited to make creating Dota movies much easier, and are looking forward to both growing the SFM community with folks from the Dota 2 workshop community, as well as expanding the choices for the existing community!
Continued...
End Of The Line
December 10, 2014 - SFM Team
We just watched End Of The Line for the 100th time in a row, and it occurred to us that it was theoretically possible that someone in the SFM community wasn't yet aware of their fantastic short. If that's you, then you owe it to yourself to go watch it right now. If that's not you, then you've probably already stopped reading this to go watch it again, and we don't blame you. Congratulations to the End Of The Line team on an amazing, action-packed short!
Continued...
Import / Export
November 6, 2014 - SFM Team
Our friends over at Mixamo have been busy adding SFM support to Fuse, their character creation tool on Steam. Read more about the new SFM export feature, watch the tutorial, and see how SFM community members lent their expertise to the folks at Mixamo for this update!
We haven't been completely idle ourselves, and after seeing multiple reqeusts for help on how to make characters run along animated paths instead of in a straight line, we've updated Import Sequence to make this easier. We've added an option "Root Drives Pose Params" to the Import Sequence dialog that allows you to animate the rootTransform of your character, and the SFM will figure out how to animate the move_x and move_y pose parameters to make the character animate along that path. Don't forget that the Steady preset is a great way of smoothing out motion speed while keeping the path intact, and have fun making guys run in circles!
Continued...
The Winners of the 2014 Saxxy Awards!
October 1, 2014 - SFM Team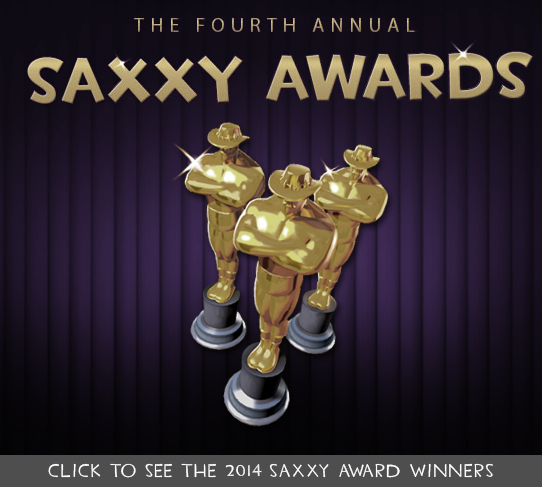 It was one of the tightest Saxxy races we've ever had, with a lot of heated debate here at Valve. But even with so many great entries, it's still a contest, and someone's got to win.
Luckily, someone did! Announcing the winners of the 2014 Saxxy Awards! Head over and check them out. All winners will get an exclusive, highly rare in-game Saxxy Award, and The Overall Winner's getting flown out to Seattle to spend some time with us here at Valve.
Continued...
Announcing the 2014 Saxxy Awards Nominees!
September 30, 2014 - SFM Team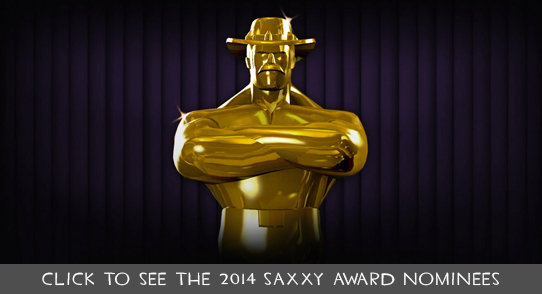 We laughed. We cheered. We cried. Some of us wouldn't stop crying, and it got awkward. Then we laughed and cheered again.
We say this every year, but we were blown away at the quality and inventiveness of this year's entries. And now we're proud to present the absolute best of best from the 2014 Saxxy Awards. Check out the nominees here.
Of course, as with any contest, not everyone can win. But that doesn't mean they aren't worthy of recognition. Below, some fantastic entries that just barely missed the cut:
Best Late Entry
"Defuse on The Fly"
Best Five-Minutes-Exactly Piece
"Wanted Warehouse"
Best Original Character
"Cubey"
Best Crossover
"The C4 Courier"
Best Tackling of a Serious Subject
"Behind the Mask"
Continued...
Vote For The Fourth Annual Saxxy Awards!
September 23, 2014 - SFM Team
It's that time again! Time for you, the community, to help decide which videos are truly the best of the best! Remember that in addition to helping choose the best videos, you're also helping to find the videos that violate the rules for the Saxxy Awards.
If you've submitted a video, make sure you've included links to any music or other assets you didn't create yourself, and double-check that you've removed any YouTube ads from your submission!
The voting period ends at 11:59PM PDT on Monday, September 29th. So submitters, you have until then to finalize your contributors; voters, you have until then to help decide which videos will win a coveted Saxxy Award!
Nominees will be revealed on September 30th and winners of this year's Saxxy Awards will be revealed on October 1st. So get voting!
Continued...
Now Accepting Submissions For The Fourth Annual Saxxy Awards!
September 16, 2014 - SFM Team
Let's Begin Again
September 10, 2014 - SFM Team
As the last of our content pack DLC before the run-up to the Saxxy Awards, we're thrilled to be able to share assets from The Stanley Parable. If you haven't played it, we can't tell you what it's about without spoiling it. Well, we can probably tell you that The Stanley Parable is a game about games. Or rather, in some ways, it's not really a game at all. Or perhaps it's the game that is the most aware of being a game. Or... Well, we've already said too much. All we can say is that it's now available as a DLC from within Source Filmmaker, and that it's under a similar video monetization policy as the rest of the content pack DLCs.
Continued...
Plum Blossoms - And Dinosaurs!
September 4, 2014 - SFM Team
Today we're excited to be able to share a double DLC update with you! First, the Blade Symphony folks have fleshed out their DLC with some beautiful new environments, props and music. There are now snow-covered pagodas, eastern temples, western castles, and even a near-future shopping mall for your virtual location scout to explore. They're also sharing music by their composer Tom Stoffel, so you have new options for music under their media monetization policy.
We're also adding a new DLC today, from the fine folks at Dino D-Day, the World War II first person shooter - with dinosaurs! So now you can give your video that extra oomph - with dinosaurs! They're releasing all of their weapons and player models (including dinosaurs!) under the same style of usage policy as the other DLC in the SFM. So if you've been wanting to give the Pyro a pet T-rex, or have the Soldier wrestle an archaosaur, now's your chance! Get animating!
Continued...