How to upload:
When can I upload a submission to compete in the Fourth Annual Saxxy Awards?
You can upload submissions between 4:00 PM on Wednesday, September 17 and 4:00 PM on Wednesday, September 24, Pacific Standard Time. (between 00:01 Sep. 18 and 23:59 Sep. 24, GMT)
How do I upload a submission?
Submissions are all uploaded from the Source Filmmaker. From the File menu in the SFM, select "Community", then "Submit Video to Saxxy Awards". You'll be prompted first for your YouTube login and password (don't worry, this info isn't stored) and then for some details about your submission (title, description, etc.).
Why won't my YouTube account respond?
Remember to set up your YouTube account so that you've answered their gender and age questions. You will also need to make sure that you've
created a YouTube channel
. You may use Google's 2-step authentication to create an app-specific password for login, or you may disable it temporarily.
When can I view submissions?
All submissions will be viewable when voting starts on Wednesday, September 24th.
Other people helped me with my submission. How do I add them as co-authors?
Once you've uploaded a submission through SFM, it should appear in the videos section of your Steam Community page. From here, simply click on the video; once it pops up, click on "View Comments and Details" to view Owner Controls and add contributors.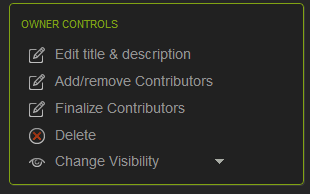 Clicking "Add/remove Contributors" will pop up a dialog showing you your friends list. Click on friends to select them as co-authors of your submission.
Your friends should then receive an email letting them accept or decline whether they are a contributor to the submission. Remember to get your co-authors to accept before the deadline!